Roxer enables influencers to monetize their audience through privacy-protected phone gigs. Your audience wants to pay to speak with you, but you don't want to give out your phone number or muck with billing.
Roxer gives you a new revenue stream by enabling you to take paid calls from your audience.
It's like a phone call except with automatic billing, privacy, and a caller waiting room - so your phone only rings when you want it to.
Key Features
Calls only when you want
Your phone only rings when you've flipped a switch to indicate you're accepting calls.


Your number stays private
Your phone number stays private and is never known by the caller.


Choose your rate
Charge any rate you'd like up to $1,000 per hour.


Reliable Payment
If your phone rings, you're getting paid. Payment method secured before the call.


Minimum Call Time
Callers commit to a minimum call time of your choosing and get billed for that time.


Per-minute billing
Callers get billed per minute beyond your configured minimum call time.


Monetize Idle Time
Got a spare 15 minutes? Go online and your audience will be notified to call you.


Automated Billing
Called is billed the moment the call ends, automatically.


Audio Transcripts
You get a full audio transcript of each call for quality assurance and reference.
For more detailed information: https://www.dropbox.com/s/c23q63urw2ol17j/Roxer%20Influencer%20Guide.pdf
Here's something fun.
Roxer has integrated Twitch streams into profile pages. Call your favorite Twitch streamer during their live stream.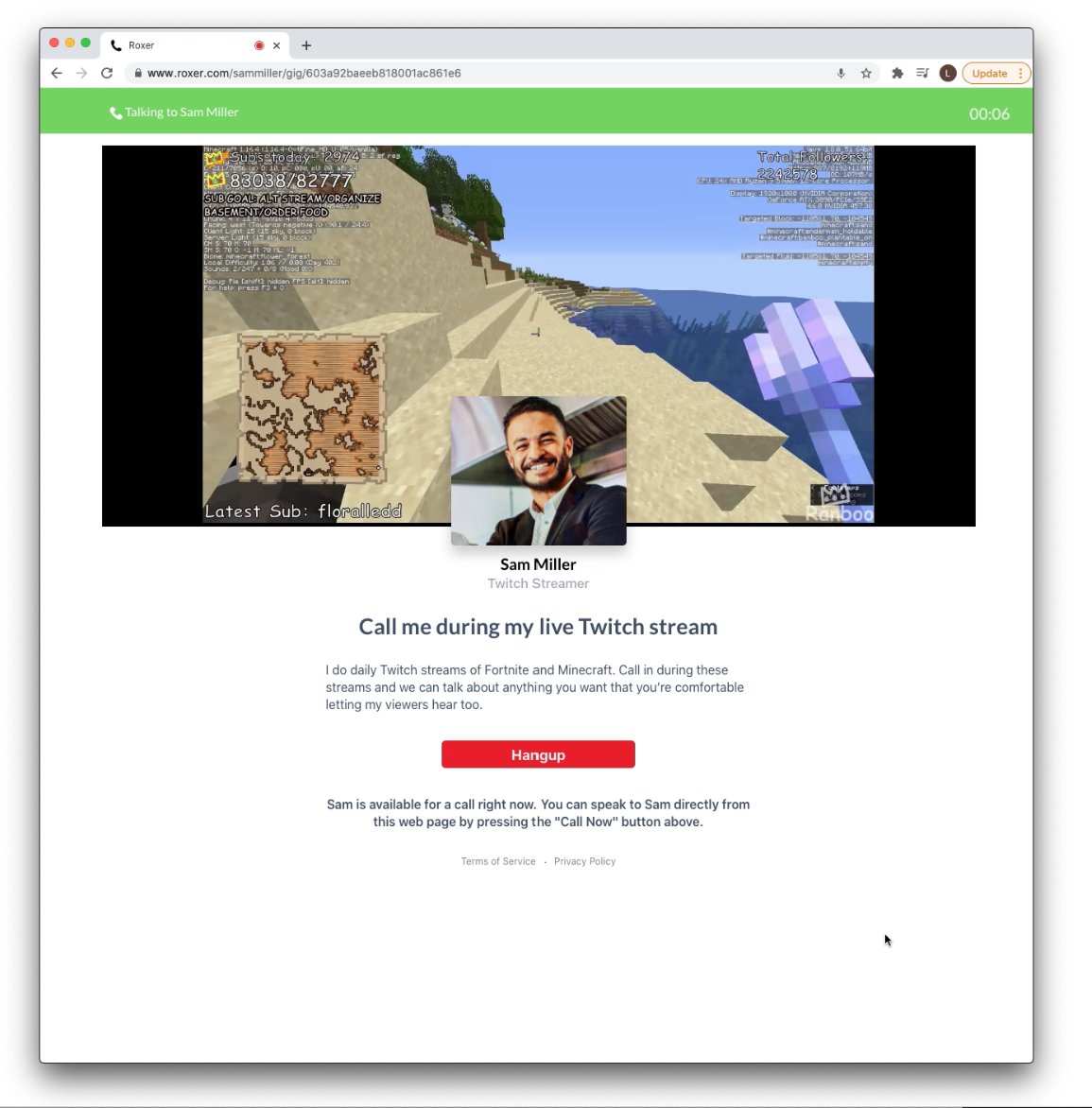 Budget amount per each promoter
My app lets promoters take paid phone calls from their audience while keeping their phone number hidden. I'm interested in promoters trying out the app, encouraging their followers to call them, and then reporting back on the experience.
To extend an invitation to followers that they can now be called and spoken to on a phone call for the first time. It can also be used as way to 'continue the conversation' beyond a post topic.
Sales - measure sales revenue
You never hear a promoter ever say "call me" because they don't want to give their phone number out. With Roxer, you actually can say "call me", and accept (paid) calls w/o giving your number out; the call is done through the app. Inviting people to call you is personal and will stand out in social media.
Followers have the incentive of being able to speak with a promoter for the first time.
Call me for details Call me, lets chat Call me and I can walk you through it Call me, and I tell you the details I couldn't talk about in the post